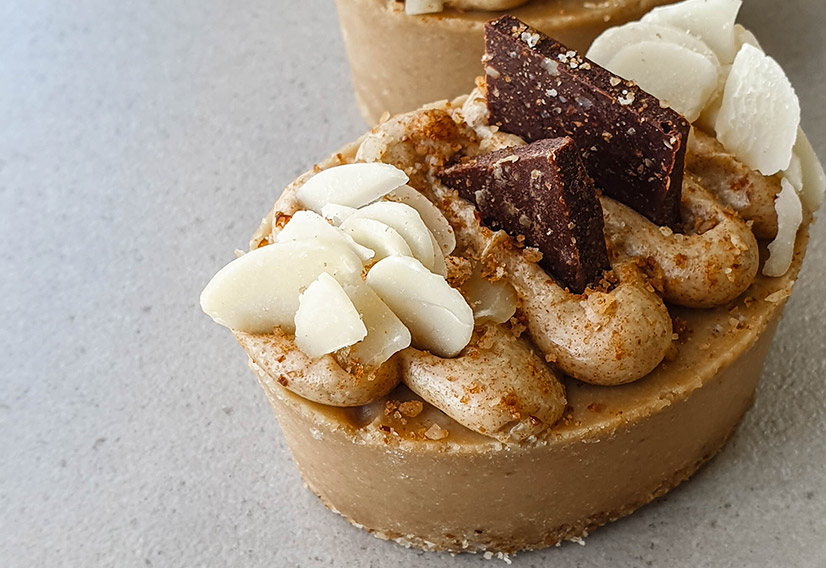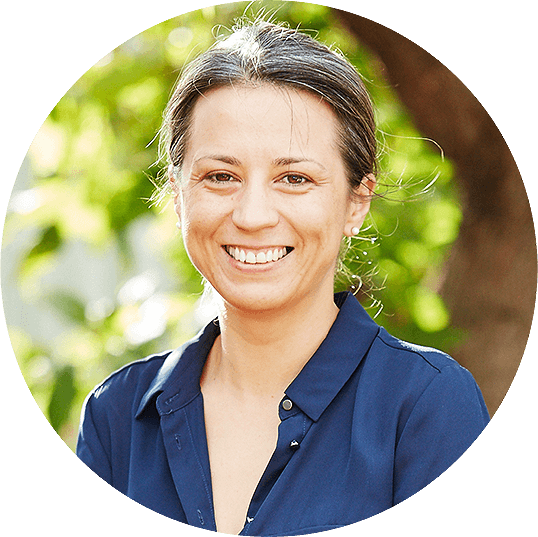 Delicious Vegan Desserts You Can Make at Home
Vegan desserts are a great way to satisfy your sweet tooth without any guilt. You can make tasty desserts without using animal products. Instead, use fruit, nuts, and other things like chocolate. Over the years, people have experimented on different vegan dessert recipes, and the results are amazing. You can use different ingredients and make vegan versions of your favourite dessert.
It may not be perfect on your first try, but practice makes perfect, and you will be a master at it in no time. A vegan dessert can be as simple as a fruit tart, but many people like to make something more complex using various products. You can find recipes for all types of desserts with the ingredients you have on hand.
Many people are moving towards using whole foods in their diets, and it is easy to do this when you only use plant-based food products. These are some vegan desserts that you can make at home.
1. Peanut Butter Jelly Pops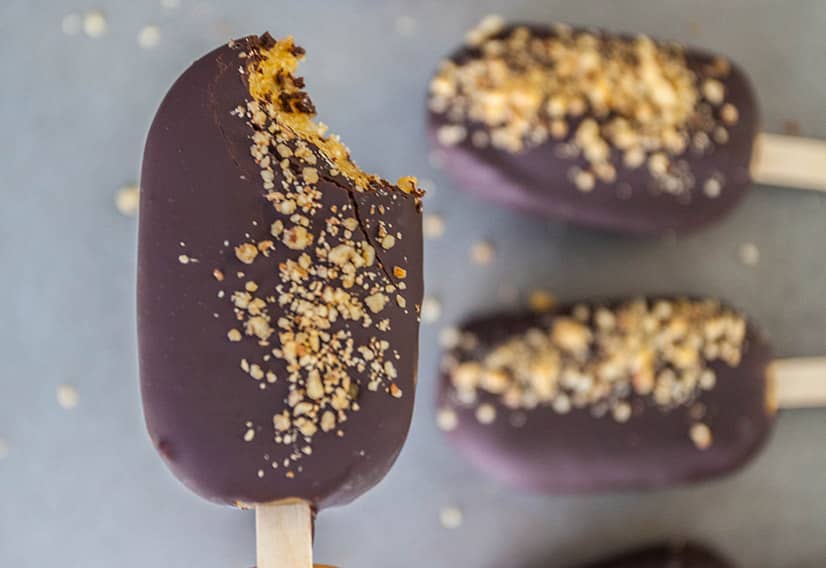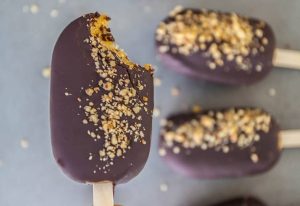 Both the adults and kids can enjoy this dessert at any time of the day. It is a simple recipe that only requires four ingredients: peanut butter, jelly, bananas, and vanilla extract. You can find all of them in any supermarket.
There is no need to make this from scratch because most of the hard work is already done. You need to puree everything together then, put the mixture into ice trays. Lastly, pop each of them out and then place them on a stick to make popsicles.
>> Don't have time to make yourself? Try our peanut butter jelly pops!
2. Raw Vegan Chocolate Cake
This cake is gluten-free, dairy-free, and refined sugar-free. You will need raw cocoa powder, agave nectar or honey for sweetness allowed in the diet, coconut oil to make it moist and creamy inside with a crunchy outside crust.
You can make this for any occasion, and it is the perfect cake for those who are allergic to gluten or dairy. You can make this vegan cake with or without frosting and use fresh fruit as a topping. It makes it perfect for those following the raw food diet by including fruits in your desserts.
3. Lemon Curd Slice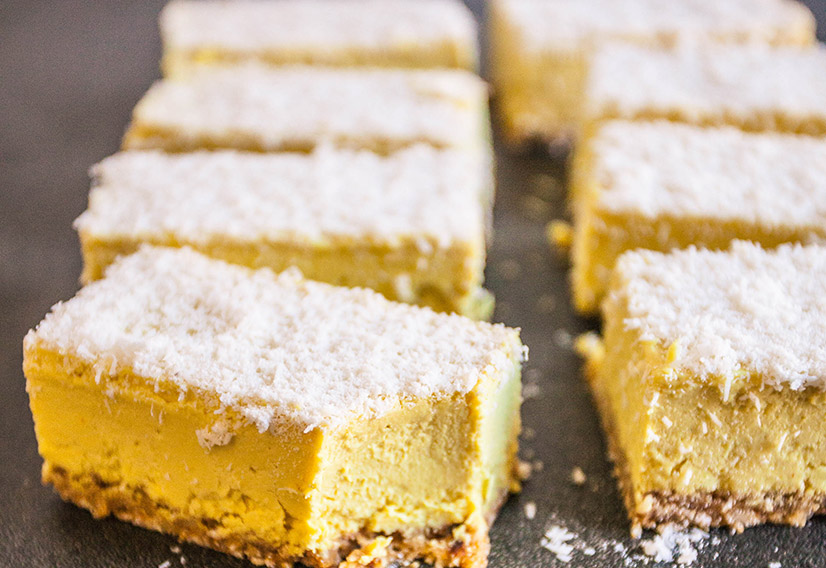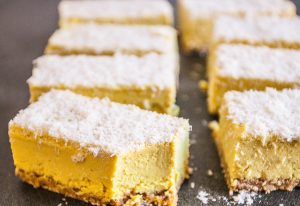 It is a slice that will impress your guests and leave them wanting more. You make lemon curd with lemons, sugar, eggs, butter, or margarine. Mix it in a saucepan until the mixture becomes thick enough to coat the back of a spoon before cooling down on a wax paper-lined tray for an hour or two.
When the lemon curd has cooled down, cut it into pieces and top with different types of toppings such as maple syrup or icing sugar. Lemon curd slice is a sweet treat that you can eat for breakfast, lunch, dinner, or even dessert. It's rich in vitamin C, which helps to boost your immune system against diseases.
>> Don't have time to make yourself? Try our lemon curd slice!
4. Raw Vegan Fruit Pie
This pie is delicious. You make it with a gluten-free crust, making it perfect for anyone who has an allergy to wheat or gluten. Although this dessert does not have a filling as the tart does, it's just as good. The best part is that you can make raw vegan pies with any fruit you want.
It is an easy and delicious vegan dessert that you can serve on occasion. The recipe consists of these ingredients: cashew butter, maple syrup, and your fruit of choice. All you have to do is mix these ingredients, layer them up with your fruits of choice, then place them in the refrigerator for a few hours, cut them into slices, then enjoy.
5. Peppermint Cream Chocolates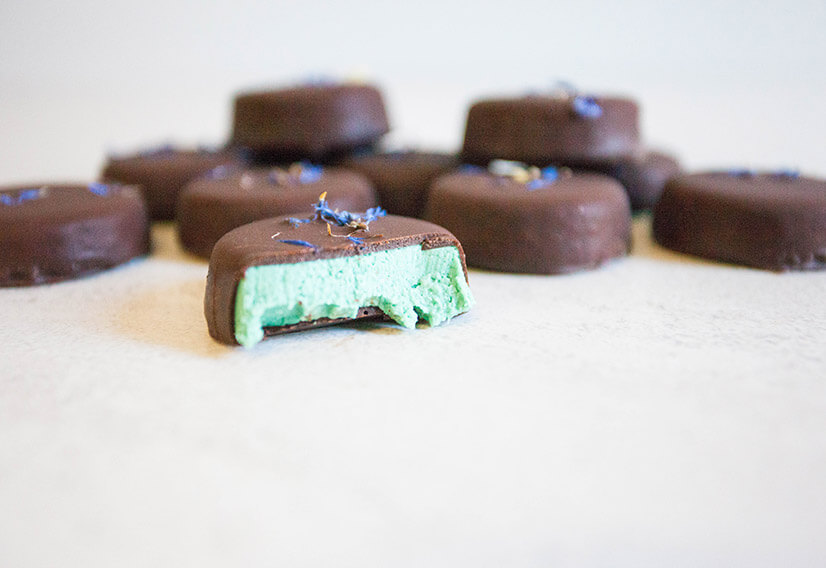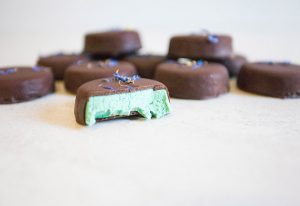 Peppermint extract is what's needed to make these chocolates. Melt chocolate and then place it in a bowl with peppermint extract, stirring until thoroughly combined. Next, take melted chocolate, pour the liquid into candy moulds or small paper cups lined with plastic wrap.
Place them in the fridge for about 30 minutes and then take them out, removing the plastic wrap. Lastly, roll the chocolate in crushed peppermint candy.
>> Don't have time to make yourself? Try our peppermint cream chocolates!
6. Vegan Coconut Ice Cream
It is a dairy-free ice cream that comes in five flavours: vanilla, chocolate, coconut lemonade, strawberry banana, and peach-mango. This vegan recipe only requires three ingredients: bananas, almond milk, and unsweetened cocoa powder for the chocolate ice cream. This recipe is a healthier alternative to traditional store-bought ice creams because it has no added sugars, artificial ingredients, or dairy products.
The texture of this vegan coconut ice cream may be different from other types, but the flavour profile more than makes up for that with its natural sweetness and rich decadence.
7. Peanut Butter Fudge Bars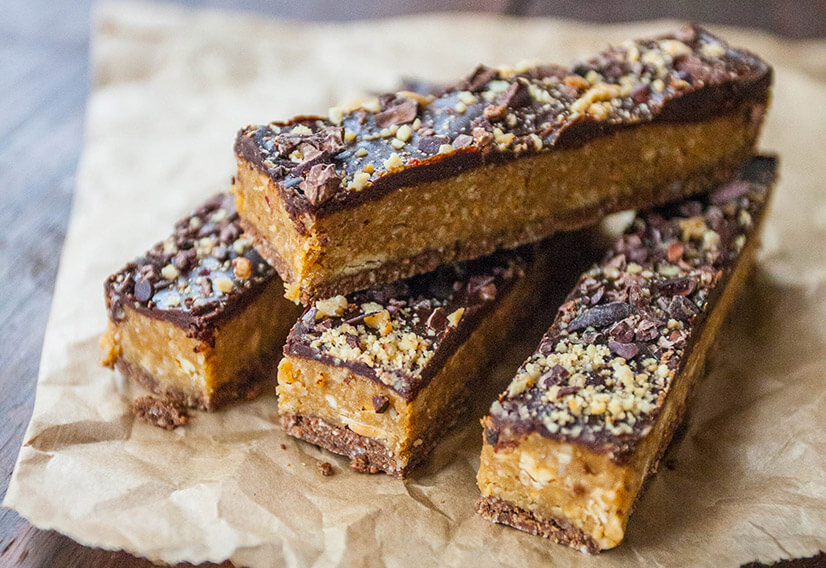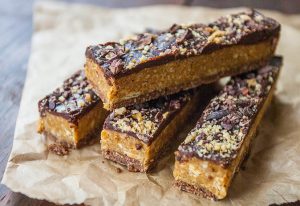 Peanut butter and chocolate go together like bread and jelly. What is your favourite food combination?. You make these bars with oatmeal, peanut butter, white sugar, brown sugar, vegan margarine, or coconut oil to make them moist and flavorful on the inside.
At the same time, a crispy crust forms around the edges from all of that melted vegan chocolate chips. The crust can be prepped beforehand by combining oatmeal with all the dry ingredients listed above minus the melted chocolate chips, then pressed into an even layer in your baking dish.
>> Don't have time to make yourself? Try our peanut butter fudge bars!
8. Tahini Almond Cookies
You make these cookies with a base of almond meal, coconut sugar, and tahini. The bananas sweeten the mixture in this recipe to make it extra moist for cookie lovers who want something different from all that chocolate. Suppose you are trying this for the first time. Then make sure you give it a taste test before adding the tahini.
The cookies are moist and chewy in texture with a hint of banana flavour, chocolate chips for an extra punch of sweetness, and sea salt flakes on top to add just enough salty crunch. Recipe yields amazing cookies that will satisfy even the most non-vegan individuals.
9. Chocolate Chip Cookies
Who doesn't love some good chocolate chip cookies? These cookies are vegan and gluten-free. The best part is that they only require a few ingredients that you can easily find in a store near you.
It is a recipe that everyone can enjoy, and for those who are just starting veganism, they will be licking their fingers and going back for seconds. These chocolate chip cookies have a rich flavour, and without butter or eggs, they are still light and fluffy like grandma used to make.
10. Macadamia Bar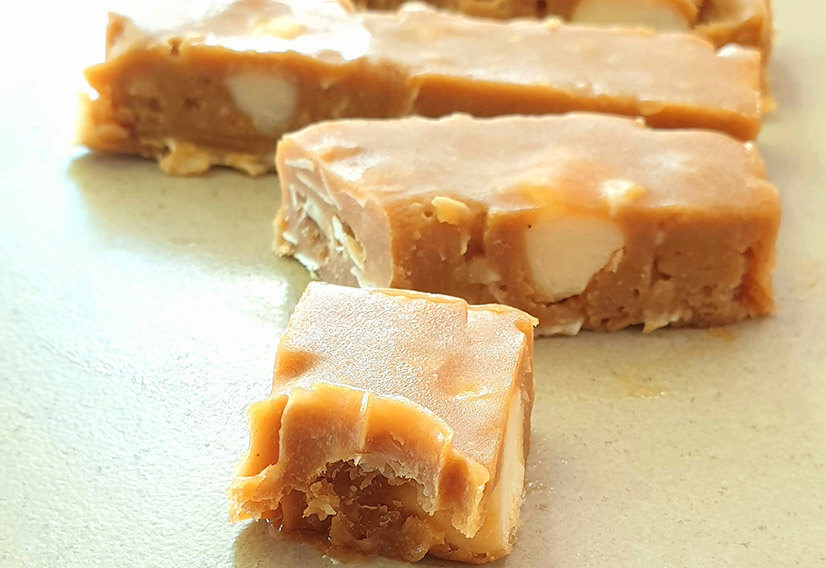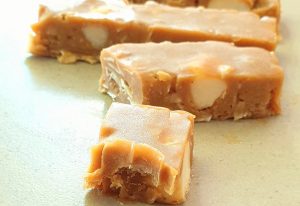 You can use macadamia nuts to make this simple and easy vegan dessert with walnuts, coconut sugar, maple syrup, or honey to taste. Add a pinch of salt and vanilla extract. Make sure you use the right amount of oats to have a smooth consistency when baked in the oven for 20 minutes at 350 degrees Fahrenheit. This vegan dessert is a guilt-free version of an old favourite.
You can top it with whipped cream or, for those who have allergies to dairy products, some soy yogurt instead. It's so easy to make, and you'll find that your guests will love this dish too.
>> Don't have time to make yourself? Try our macadamia bars.
11. Chocolate Pudding Pie
The perfect chocolate pudding pie has a graham cracker crust on the bottom to give it some crunch for contrast against all of the creamy goodness inside. The pumpkin in this dish adds flavour and a beautiful colour to make this dish stand out from the rest.
The ingredients you need to make this are: tofu, sugar, pumpkin puree, cocoa powder, and vanilla extract. Follow the recipe and be patient as you wait for the pudding to set up in the fridge.
12. Salted Caramel Cheesecake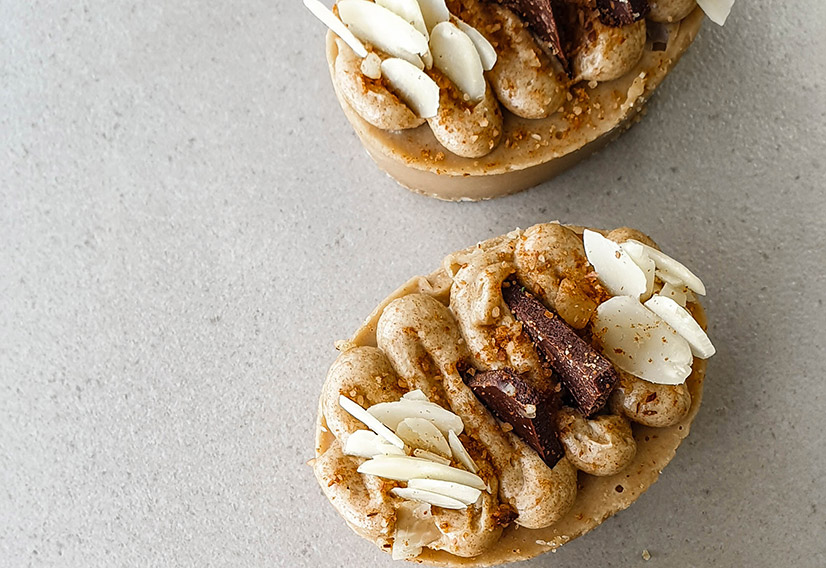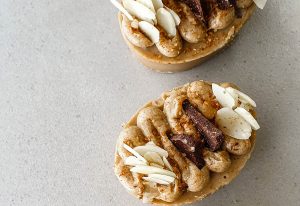 It is a vegan version of the traditional cheesecake recipe. It has all the same flavours but without any dairy products in it. People who are lactose intolerant can enjoy this dessert too. Add salted caramel sauce to vanilla cashew cream cheese, and then bake until firm on top. Drizzle more caramel sauce over it once it has cooled and sprinkle with chopped hazelnuts.
You can make these in little individual serving cups or an oven-proof dish for a more significant portion. The tartness from the cranberries and lemon juice gets balanced out with maple syrup, so you'll be getting that sweet taste without any processed sugar to spoil it. The crust can also be made ahead of time and stored in the freezer, then removed when needed to fill with the creamy filling and baking until set.
>> Don't have time to make yourself? Try our salted caramel cheesecake!
13. Carrot Cake
It is a classic cake that you can't go wrong with. It's made with grated carrots, shredded coconut, applesauce, and raisins to give it the perfect amount of sweetness without using any refined sugars. Create a vegan cream cheese frosting with tofu, lemon juice, and maple syrup for the perfect topping.
If it's your first try, you might want to start with a two-layer cake to make sure that you get the details right, but after that, try your hand at creating some cupcakes.
14. Chocolate Mousse
This classic dessert can be made vegan by using silken tofu instead of eggs to create consistency. Add cocoa powder or carob powder to it, along with chocolate chips, maple syrup, and vanilla extract. Pour it into a glass to make individual servings or use bowls for more significant portions.
It is a dessert when people want something sweet to eat between meals or as a bit of nibble before bedtime.
In conclusion, If you have the time and opportunity to make these vegan desserts, it's good to try each one at least once. They're all so different in flavour that it's hard not to love them. In addition, they won't cause your body harm because of the ingredients used. Therefore, there will be no guilt left behind.