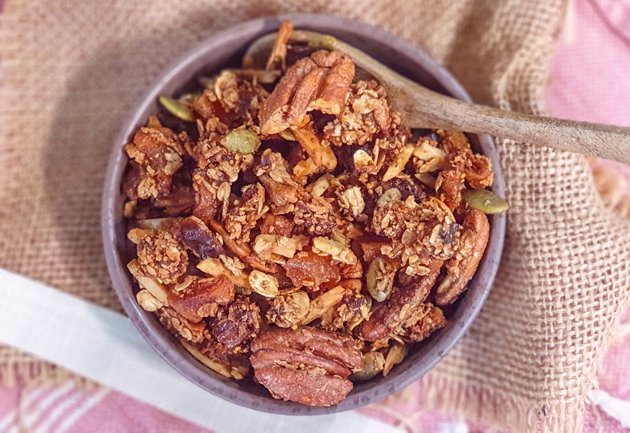 20g coconut sugar
50g maple syrup
1/2 teaspoon grated ginger
1/2 teaspoon cinnamon powder
1/2 teaspoon mixed spice
1 teaspoon vanilla essence
Zest of one orange
A handful of chopped dry figs
A handful of chopped dates
A handful of chopped dry apricots
A big handful of pecans
A big handful of slivered almonds
A big handful of pumpkin seeds
1 cup of your favourite oats (regular or quinoa for GF)
Preheat the oven to 160C and line a tray with baking paper.
Add the sugar, maple, ginger, cinnamon, mixed spice, vanilla and orange zest to a large bowl and mix to dissolve the sugar.
Add all the other ingredients to the bowl and toss to thoroughly mix.
Spread the granola onto the baking tray in a single layer and bake for a total of 30 minutes, taking the tray out and tossing the mix every 10 minutes to ensure even cooking.
When done, allow it to completely cool before storing it in an airtight container or a jar.
Do you enjoy our recipes? Join our bi-monthly usefulletter for exclusive offers and recipes, BTS snippets and 10% off your first order.
Other recipes you might like