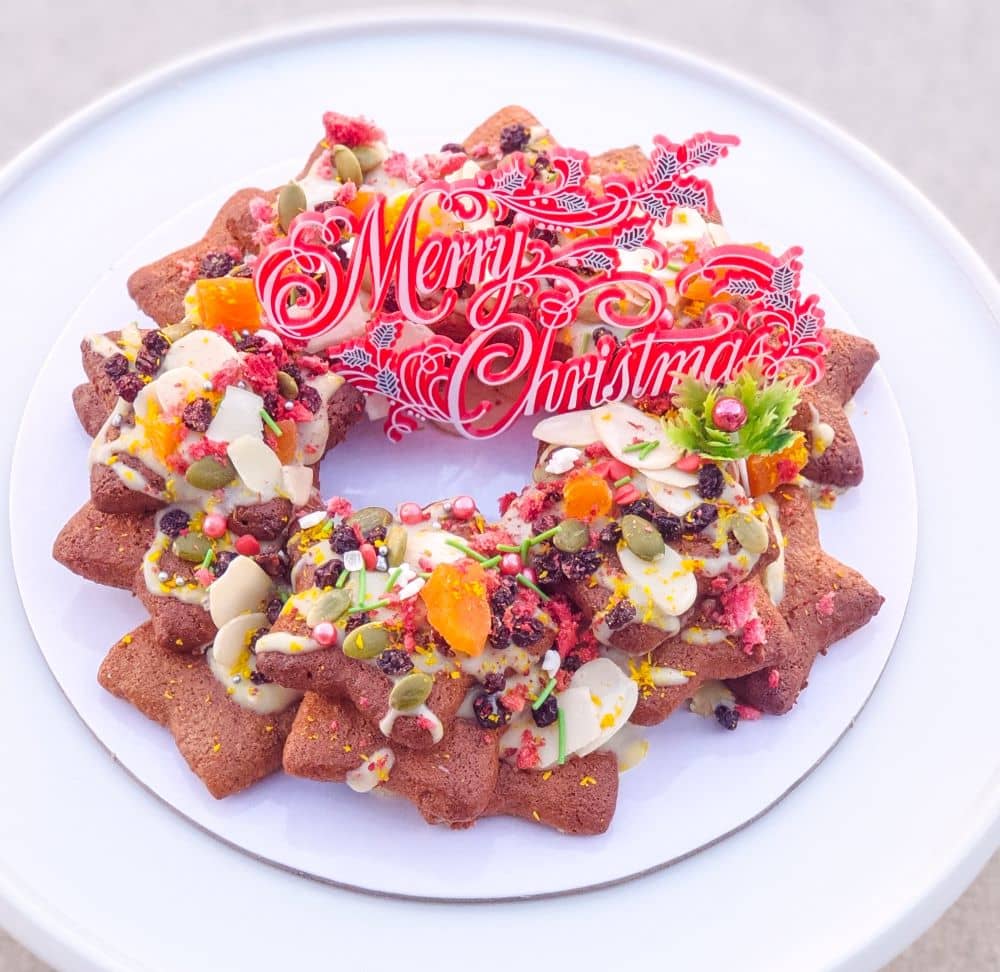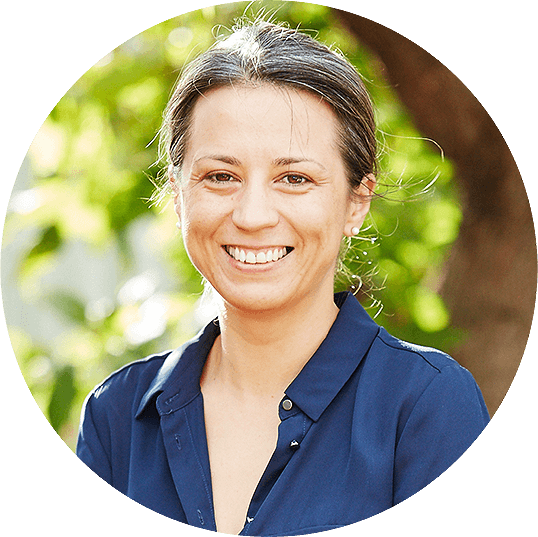 Join our usefulletter and get 10% off your first order + exclusive recipes, offers and BTS
6 Festive and Wholesome Recipes to Try This December That Are Gluten-Free and Vegan
'Tis the season to treat your loved ones. Either by spoiling them with an edible, homemade gift or by adding delicious wholesome treats to the Christmas table. Whichever you choose, it's time to put on your chef apron and dust off the Christmas spatula.
I hope you enjoy the ideas below as much as I enjoyed creating them.
A Recipe to Gift – Turmeric Dukkah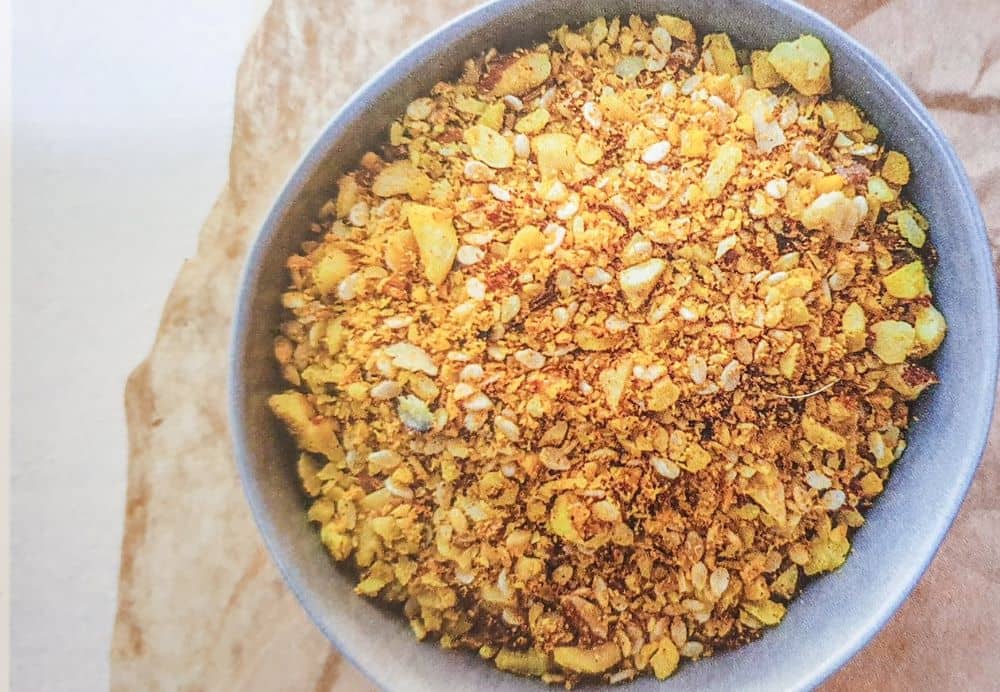 You can use the nuts raw or slightly toast them.
Ingredients
150g almonds
100g cashews
50g macadamias
50g toasted sesame seeds
3 tsp ground turmeric
1.5 tsp cumin seeds
1 tsp black peppercorns
1/3 tsp sea salt flakes
½ tsp ground cinnamon
1/3 tsp ground ginger
½ tsp ground coriander
pinch chilli flakes
Instructions
Add the nuts to a food processor and process until you get them crumbled.
Add the nuts to a bowl.
Add the sesame and spices to a mortar and pestle and grind them until fine but still a bit chunky.
Add the spices to the bowl and toss to thoroughly mix.
Store the dukkah in an airtight jar in a pantry, away from heat and light. If storing for a longer-term, store it in the dukkah in the fridge.
Recipe from Nourishing Noodles book. 
A Recipe for Christmas Treats – Rum Raisin Chocolate Fudge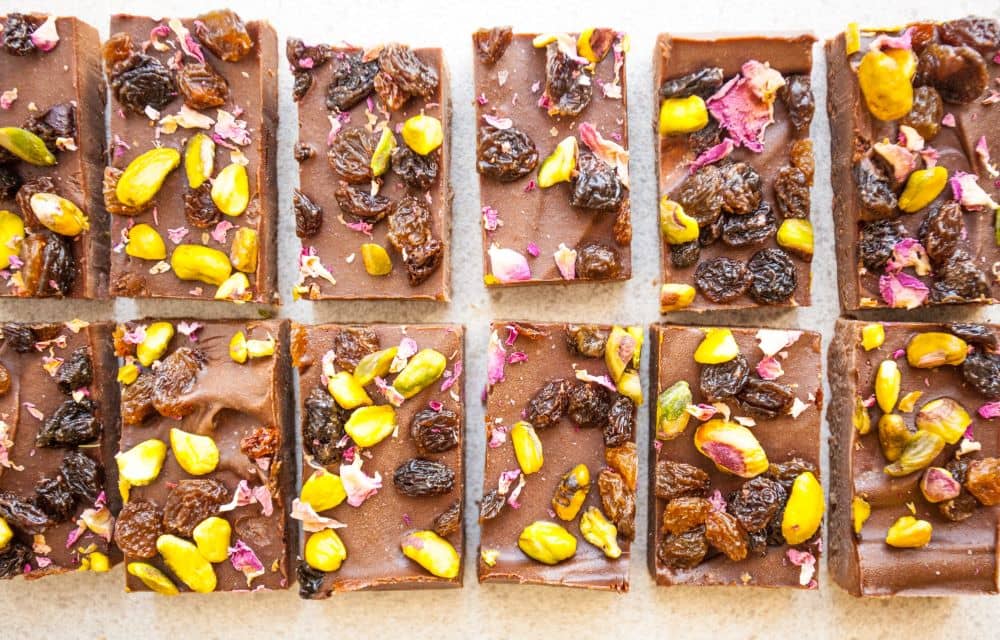 This fudge is a perfectly healthy and naughty way to adult this holiday season. It's the creamiest, richest chocolaty treat, with a bit of a boozy hint. To make it child friendly, simply omit the rum.
Ingredients
250g cashews
130g ripe avocado
100g coconut oil, melted
50g cacao butter, melted
100g water
50g cacao powder
150g maple syrup
6 tablespoons of dark rum
1 teaspoon vanilla essence
a handful of raisins or sultanas
a handful of pistachios
1 tablespoon of rose petals
Instructions
Add the following ingredients to a blender or food processor, in order: avocado,
coconut oil, cacao butter, water, vanilla essence, rum, cacao powder, maple syrup
and cashews.
Process everything until you get a ridiculous, perfectly smooth and silky
consistency.
Pour in a pan lined with baking paper and smooth the top.
Decorate with raisins, pistachios and rose petals and refrigerate for 3-4 hours.
Cut into desired serving sizes and arrange on a serving platter.
Keep refrigerated until serving.
A Recipe for the Kids – Chocolate Turtles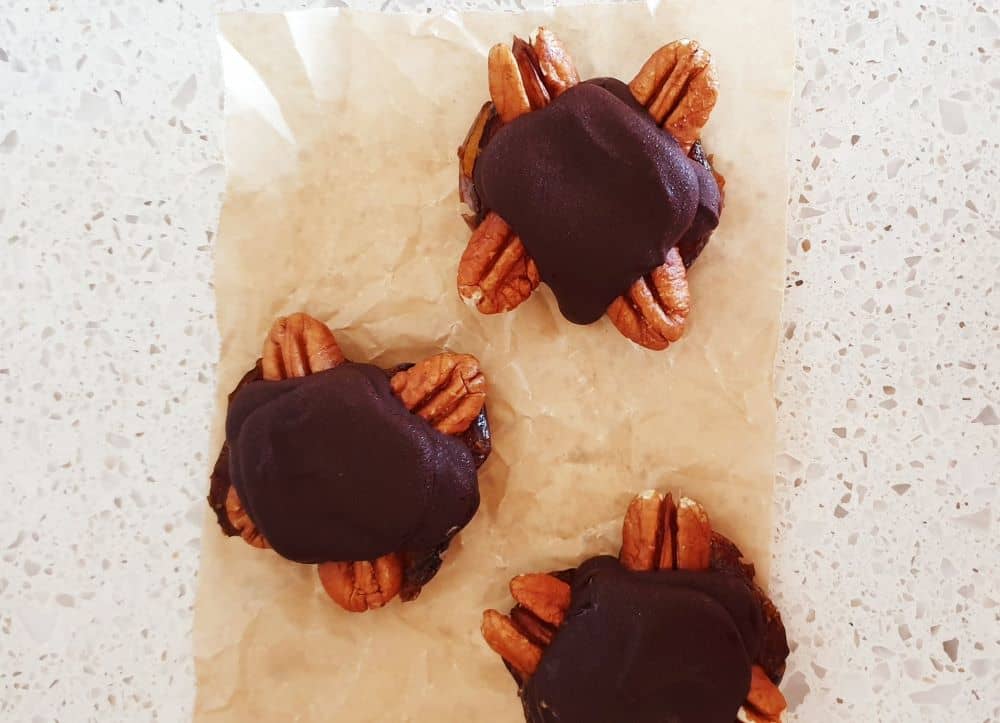 This is a fun take on a chocolaty, caramelly, crunchy treat!
To make them you need:
1 batch classic chocolate (follow this recipe)
12 Medjool dates
48 whole pecans
Instructions
Cut, pit and spread open the Medjool date, skin side down.
Press 4 pecans around the date, making sure they stick to the date.
Scoop 1 TBSP chocolate on top of the date.
Refrigerate for 15 minutes.
Stop another tablespoon of chocolate on top.
Refrigerate.
Recipe from Simply Delicious Desserts free ebook.
A Recipe to Share – Mushroom Pate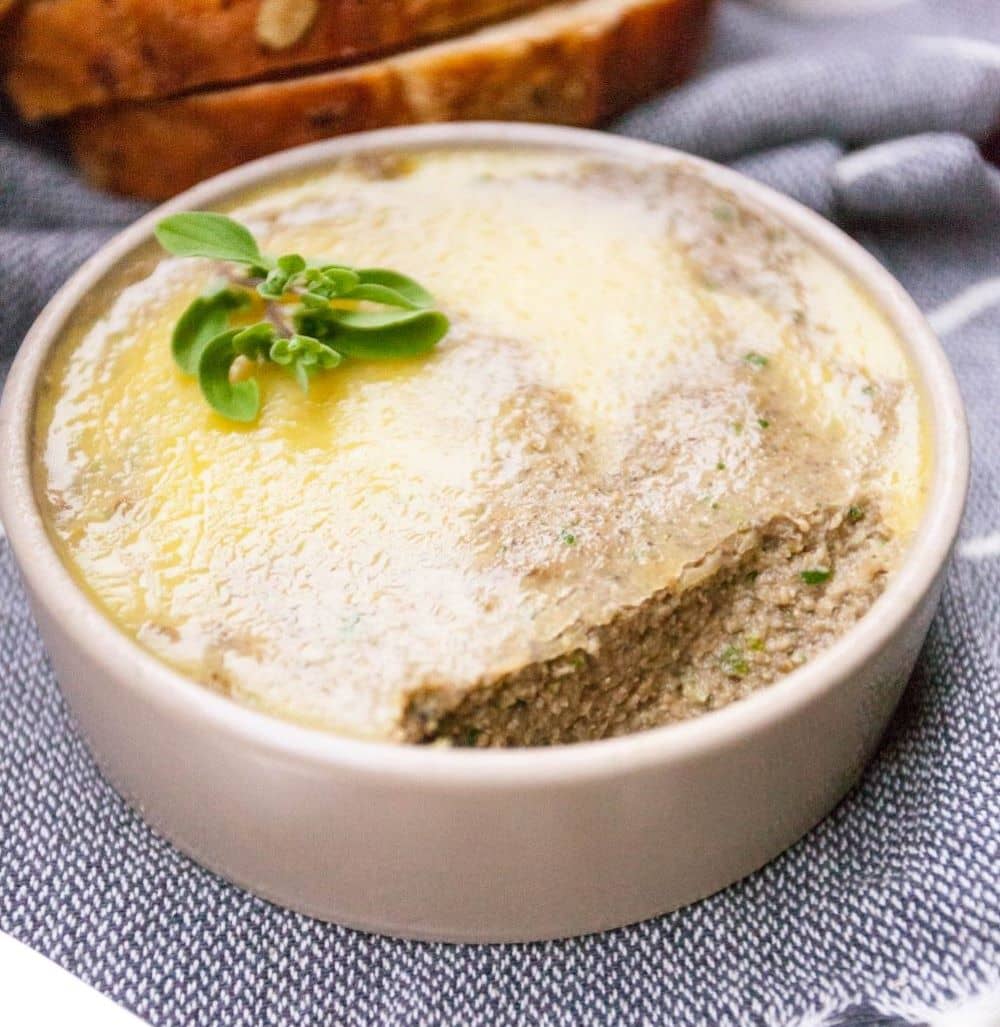 The magical powers of mushroom come into play in this recipe, leading to a lot of rapid bread slicing and happy groans. This pate is a crowd-pleaser, it goes with everything and it is easy to make ahead of time.
Ingredients
10g dry porcini mushrooms
1/4 cup hot water
2 TBSP olive oil
1 medium onion, roughly sliced
6 garlic cloves, sliced
2 cups button mushrooms
(about 10 medium button mushrooms)
A handful of parsley, roughly chopped
2 TBSP thyme leaves
1 tsp sea salt flakes or 1/2 tsp table salt
1/2 tsp ground black pepper
1 cup cooked chickpeas
1/4 cup salted vegan butter
Instructions
Add the porcini mushrooms to a small bowl and pour the hot water on top. Set aside.
Chop the onion and add to a pan.
Sautee the onion on medium-low heat until softened and caramelized (about 10 minutes).
Slice the garlic cloves.
Slice the mushrooms.
Add the garlic and mushrooms to the pan and mix with the onion.
Add the porcini mushrooms with the water to the pan.
Cook the mushrooms until softened (about 7-9 minutes).
Chop the parsley and pick the thyme leaves.
Add the herbs, salt and pepper to the pan and mix.
Cook until the herbs are softened (about 4 minutes) then remove from heat.
Add the chickpeas to a food processor and blitz until finely crumbled.
Add the mushroom mix to the food processor and blitz until pureed. You might need to scrape the sides once or twice and then continue to process. Set aside.
Add the vegan butter to a small pot on low heat and melt.
Spoon the mushroom pate into small bowls or ramekins.
Pour the melted butter on top, dividing it equally between bowls.
Place the bowls in the fridge until the butter sets.
Serve with fresh sourdough and more herbs.
Recipe from A Bountiful Christmas ebook
A Recipe for the Christmas Table – Blueberry and Spinach Quinoa Salad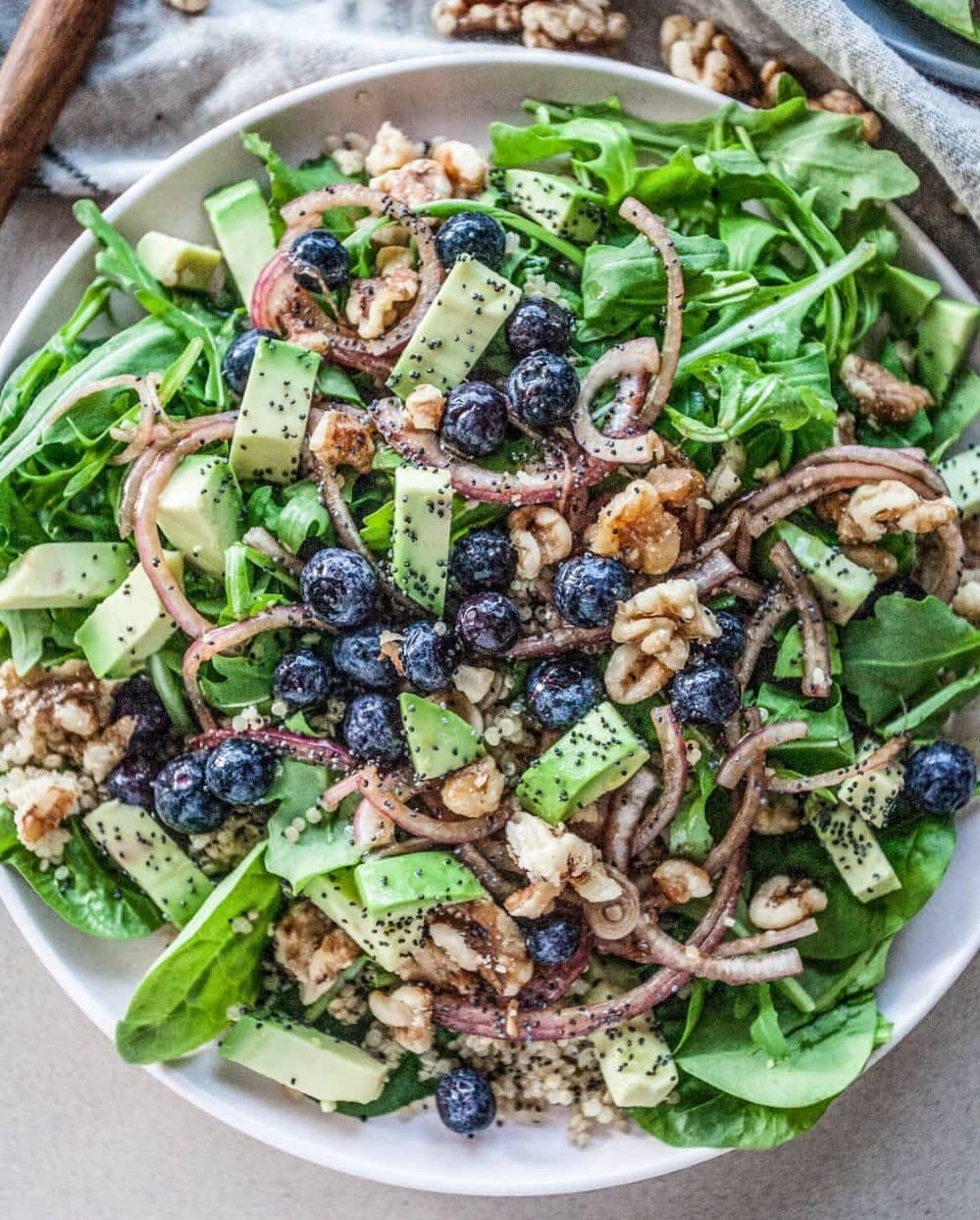 Serves 4-6 as a side salad
Ingredients
4 handfuls of spinach
4 handfuls of rocket
1/2 red onion, thinly sliced + 2 tsp balsamic vinegar
4 handfuls blueberries
1 avocado, thinly cubed
3 cups cooked quinoa (cook 1.5 cups with 2.5 cups water)
4 handfuls walnuts
4 TBSP olive oil
2 TBSP balsamic vinegar
2 tsp poppy seeds
1 tsp mustard
juice of a lemon
Instructions
Start cooking your quinoa first, if you're doing that from scratch.
Add the walnuts to a small pan and toast on low heat for about 3-4 minutes, constantly stirring so they don't burn. Remove from heat.
Add the onion and 1 tsp balsamic vinegar to a small bowl and gently massage for 30 seconds. Set aside.
Add the dressing ingredients to a small jar (olive oil, balsamic vinegar, poppy seeds, mustard, lemon juice) and shake well until they emulsify.
When the quinoa is cooked, add it to a large bowl. Then add the spinach, the rocket, the onion, the blueberries, top with avocado and walnuts, and finally add the dressing between. Toss to combine.
Enjoy fresh! This is a wonderful summer side or dinner.
A Festive Christmas Table Idea – An Edible Wreath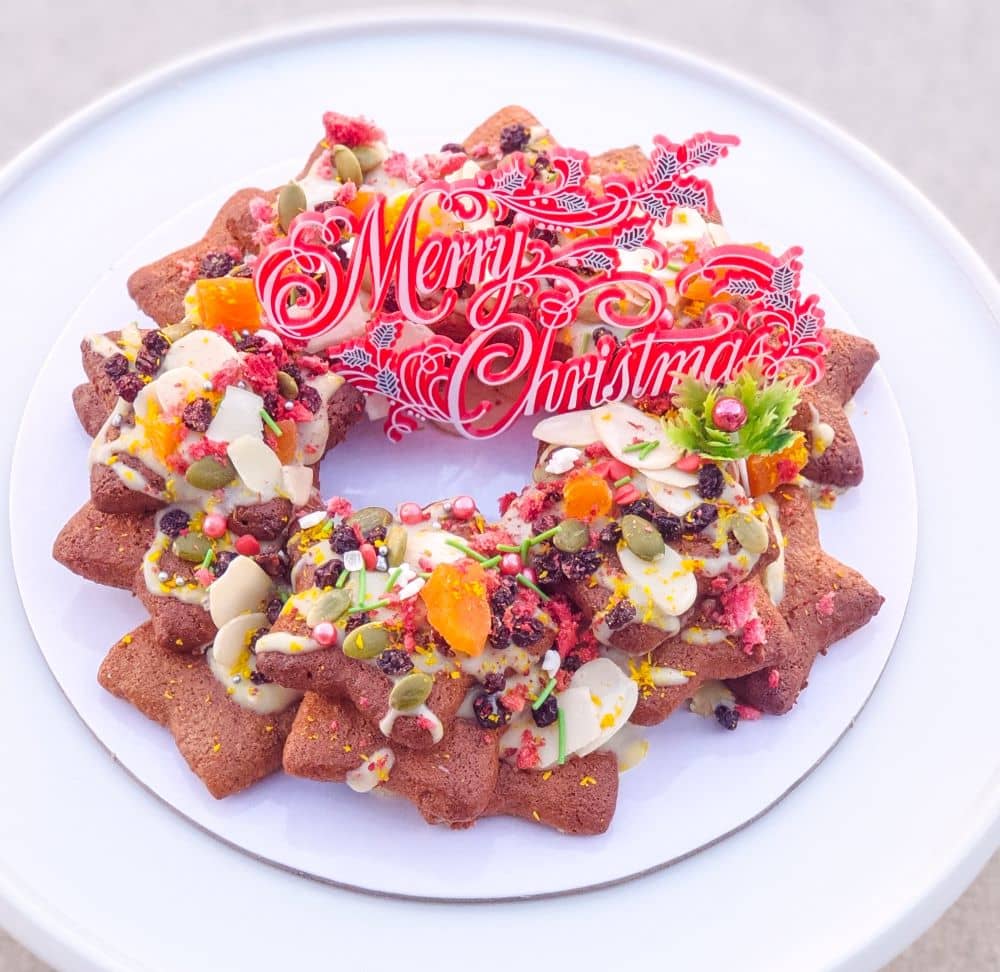 Time to get fun and creative in the kitchen with an edible wreath. This beautiful centrepiece was made with gingerbread cookies in the shape of stars. You can try the gluten-free, dairy-free, vegan gingerbread cookies from my ebook A Bountiful Christmas. You will need 15-20 cookies.
Assembly instructions:
Line a chopping board with baking paper and drizzle a circle of white chocolate.
Arrange the cookies on top of the chocolate, in a circle, making sure the stars touch.
Drizzle white chocolate in a circle on top of the cookies.
Arrange more cookies on top of the first layer and drizzle more white chocolate on top.
Arrange a final layer of gingerbread cookies on top and drizzle a final layer of white chocolate on top of the cookies.
Add your decorations. I used: almond flakes, currants, dry apricots, pumpkin seeds, dry strawberries, orange crumble and Christmas sprinkles.
Refrigerate until the white chocolate is set and served on the Christmas table.
Happy Holidays!
And don't forget to use #myCKchristmas to share your creations with us so we can share them further.
Join our usefulletter and get 10% off your first order + exclusive recipes, offers and BTS